History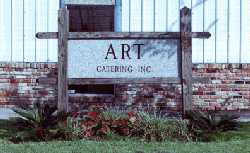 ART Catering, Inc. was founded in August 1979 with only four employees. Ten years later, in 1989, Brenda J. Hingle, one of the founders, purchased the entire company, which has since grown into a major oil field catering and housekeeping service company. She attributes this success to quality of service and detailed safety procedures practiced by her outstanding staff of employees.
Reputation for Excellence

ART Catering, Inc. is today an industry leader in quality catering services in the Gulf of Mexico. We are proud to have a safety record and employee stability rate among the best in the industry. These are two of the factors that contribute to our reputation for excellence.
Purchasing Process

Food, Supplies, Linen & Equipment
We value long term relationships with quality vendors.  Bids for product are solicited from vendors based on ART's specifications.  Our trusted vendors know our standards:  domestic seafood only-shrimp, oysters, and crawfish; "choice" or better meats exclusively; Grade "A" fresh produce; Grade "A" or "AA" dairy items; fresh bread delivered daily.
Galley/Dining Equipment
Top quality durable equipment/nationally known vendors
Bed & Bath Linens
Oversized bath towels; Custom made options for bedding & bath textiles.
Highly Trained Employees

Today, after thirty seven years providing catering services to quality companies in the oil business, ART Catering has over three hundred of the safest, best trained people in the industry.  Our continued investment in our people and safety priorities underscores our commitment to the future.